What we learned: Basketball highlights from the Tokyo 2020 Olympic Games
From Luka Doncic and Slovenia's fairytale run to Team USA's Thanos-like inevitability, take a look at basketball's most memorable moments at Tokyo 2020, a medal recap, and what we have to look forward to at Paris 2024. 
The basketball tournament at the Olympic Games rarely fails to disappoint, and Tokyo 2020 was no exception.
In addition to some thrilling action in both men's and women's tournaments, we saw history being made all over the Saitama Super Arena hardwood.
Kevin Durant eclipsed Carmelo Anthony as the top Olympic scorer in U.S. men's history, Slovenia and Belgium participated in their first-ever Olympic basketball tournaments, and Sue Bird and Diana Taurasi cemented their status as two of the best basketball players of all time by claiming their fifth Olympic gold medals.
Below, we take a look back at the most memorable moments from the basketball competition at Tokyo 2020, a recap of the medal winners, and who to look out for at the Paris 2024 Olympics now just three years away!
The Men's Gold Medal Game took place on 07/08/2021 at the Saitama Super Arena, Saitama. The USA claimed Gold with a 87:82 victory over France
Top 5 basketball moments at Tokyo 2020 in 2021
Here are some of the highlights from the Tokyo 2020 Olympic Games, which took place in 2021.
1 – France beats USA on day 1
The U.S. men's team had a somewhat rocky training camp in preparation for Tokyo 2020, suffering defeats to Nigeria (the first time an African nation had ever beaten a U.S. team in basketball) and Australia. But very few Team USA fans – or anyone who had paid attention to the team for the past three Olympic Games – seemed to be too concerned heading into their opening Olympic group game against France.
Sure, France had NBA talent on their roster in the form of Utah Jazz centre Rudy Gobert and New York Knicks guard Evan Fournier, but not on the same scale of their opponents; the U.S. roster featured multiple NBA champions, Defensive Players of the Year, All-Stars, and first-team All NBA selections.
In short, the USA was favoured in this match-up, and were expected to defend the gold medals they had claimed at Beijing 2008, London 2012, and Rio 2016.
France, however, didn't get the memo.
After an opening first half that seemed to be going according to plan for the USA, leading by eight, France upped the ante in the second half. Les Bleus put the clamps on the US offence, dominated the glass (France outrebounded the USA 42-36) and rode the hot shooting of Fournier (game-high 28 points) to claim a famous 83-76 win that sent shockwaves throughout the Olympic and basketball world.
The loss was the U.S.'s first at the Olympics since Athens 2004 – snapping a streak of 25 consecutive wins.
When asked if the USA players had trouble adjusting to international rules, Gobert told Olympics.com:
"I mean there's a lot of nuances, especially on the way they call the flagrant (unsportsmanlike fouls). They call it flagrant if they feel like it's not a play on the ball. In the NBA, unless you're really trying to hurt someone, they don't call it. I think some of these (USA) guys are going to get used to it throughout the tournament. I think they're going to get better and better."
And so Gobert's words proved true, as the USA would go on to win the rest of their games at the Olympics; including victory over France in the final.
Still, what a way to open the men's tournament at Tokyo 2020! But perhaps France and their fans wish they could have played the USA for the first time in the gold medal game, rather than the group stage. Even so, France went home with silver; their first Olympic medal since Athens 2004 (also silver).
2 – Luka Doncic and Slovenia's incredible Olympic debut
After the Dallas Mavericks were ousted from the 2021 NBA playoffs in the first round, Doncic joined the Slovenia men's national team for their all-important Olympic Qualifying Tournament (OQT) in Kaunas, Lithuania.
Despite Doncic's presence, Lithuania were still the favourites to win the tournament on their home court and score the golden ticket that would see them qualify for Tokyo 2020 as one of the four OQT winners.
However, in the final, Doncic recorded a monster triple-double (31 points, 11 rebounds, 13 assists) as Slovenia upset Lithuania 96-85 to advance to the first Olympic basketball tournament in the nation's history.
Slovenian basketball superstar Luka Doncic inspired his side to a fourth-place finish in their first-ever appearance in the Olympic basketball tournament.
Doncic made an immediate impact with 48 points in their opening game against Argentina. He claimed a triple-double in the semi-final against France, but was injured in the closing stages and Slovenia lost by a point, then Australia proved too strong in the bronze medal game.
And once they arrived in Japan, Junaki («The Heroes») proved they weren't there to simply make up the numbers, winning all three of their group games (including impressive victories over Spain and Argentina,) to advance to the knockout round. Doncic proved why he is one of the biggest stars in the NBA and often mentioned as a future MVP winner throughout the tournament, equalling the second-highest single-game Olympic scoring total in history (48 points in a 118-100 win over Argentina) and becoming the first player since LeBron James in 2012 to record a triple-double at the Games, during in a semi-final loss to France (16 points, 10 rebounds, 18 assists).
Doncic and Slovenia ultimately came up just short in Tokyo, losing by one point in the semi-final to France before being blown away by Australia in the bronze medal game.
It's likely too early to see if Doncic will return for Slovenia's next attempt to qualify for the Olympics in 2024, but based on their debut performance in Tokyo, the Europeans will rightly be aiming for the podium in Paris.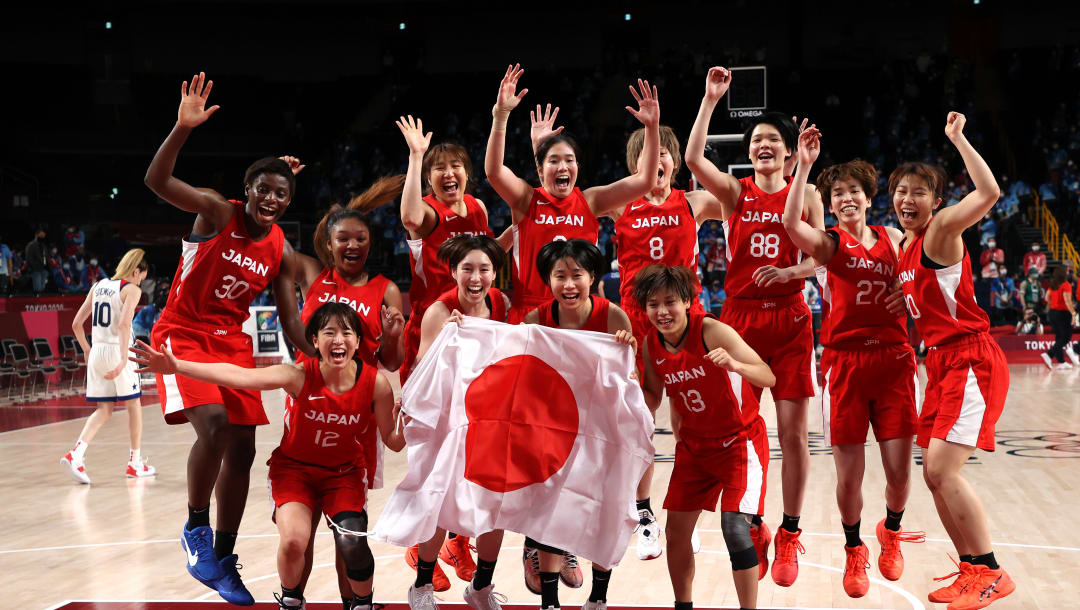 3 – Japan's run to the gold medal game
Prior to Tokyo 2020, the Japanese women's team's best result at an Olympic Games was a fifth-place back in 1976 in Montreal.
Yet Japan came into their home Games off the back of a strong performance at the 2019 FIBA Asia Cup, where they won gold. That good form carried over to the Olympics, as they beat London 2012 silver medallists France en-route to finishing second in the group and progressing to the knockout rounds.
In the quarter-finals, they met Olympic debutants Belgium in a game for the ages, with the lead swinging back and forth between the two sides before a Hayashi Saki three-pointer gave Japan a 86-85 lead with 30 seconds to go. Kim Mestdagh's last-second jump shot came off the back iron, and Japan were through to the semi-finals.
Once again they faced France, but on this occasion the game wasn't nearly as close as the tight 74-70 Japanese victory in the group stage. Thanks to an unbelievable performance by Machida Rui (who dropped 18 assists in the contest, a new Olympic single-game record), Japan cruised to a 87-71 win to advance to their first-ever gold medal game.
The Women's Gold Medal Game took place on 08/08/2021 at the Saitama Super Arena, Saitama. The USA claimed Gold with a 90:75 victory over Japan
Though Japan were unable to prevent the USA from claiming a seventh straight Olympic title, they did bring home their first-ever medal in the competition (silver) in what was one of (if not the) standout team performances of Tokyo 2020.
4 – Sue Bird and Diana Taurasi make history
Bird and Taurasi are two of the greatest players to ever play basketball; that statement was true well before Tokyo 2020 got underway, but Team USA's seventh consecutive Olympic title solidified the pair's inevitable place in the basketball Hall of Fame.
When the U.S. women's team stepped to the top of the podium during the medal presentation after their victory over Japan, Bird and Taurasi (who are two of only 11 players to have won Olympic gold, FIBA World Cup gold, a WNBA title, and NCAA title) were presented with their fifth Olympic gold medal – the most won by any basketball player of any gender in Olympic history.
It marked a fitting culmination to both women's Olympic careers, as it's unlikely either will be part of the USA squad for Paris 2024.
With five Olympic golds between them, and aiming for more at Tokyo 2020, the American pair know how much fans in the U.S. love their sport, and are fully aware of how athletes can influence the «hearts and minds» of people watching. Hear how four-time WNBA basketball champion Bird, and two-time FIFA Women's World Cup winner Rapinoe believe that's making a difference and inspiring people.
5 – Kevin Durant tops Team USA's scoring charts
Sure, the USA lost a couple of exhibition games in their Olympic warm-up camp and even dropped the opening Tokyo 2020 contest to France, but after those bumps in the road it was back to business for Kevin Durant and the U.S. men's team.
Durant became the leading scorer in U.S. Men's Olympic basketball history during the tournament, after surpassing Carmelo Anthony's 336 points in the USA's last group game against the Czech Republic (Durant finished with 23 points to go along with eight rebounds and six assists).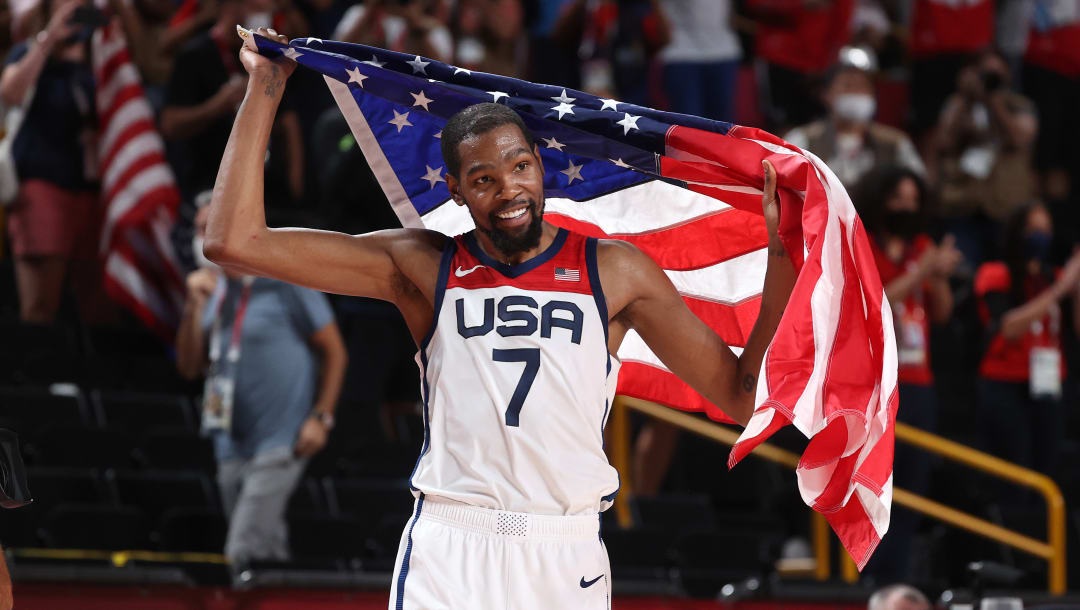 The Brooklyn Nets superstar was outstanding in the gold-medal game against France as well, scoring 29 points to go along with six rebounds as Durant joined Anthony as the only three-time gold medallists in Olympic men's basketball history.
By the end of the game against France, Durant had extended his Olympic career total to 435 points and became the first player to score 100 or more points in three Olympic tournaments.
If Durant decides to join Team USA for another ride at Paris 2024, he would have the opportunity to win a fourth gold medal and stand alone as the most successful male player in Olympic history.
One last look
Tokyo 2020 saw the international retirement of three basketball legends: Pau and Marc Gasol and Luis Scola.
Scola was competing at his fifth Olympic Games, having won gold at Athens 2004 and bronze four years later in Beijing.
However, Argentina's loss to Australia in the quarter-finals in Japan signalled the end of the 41-year-old's iconic career with Albiceleste.
Following the defeat, the 41-year-old Scola – who was subbed out of the game with under a minute remaining to a standing ovation from everyone inside the Saitama Super Arena – said, «It's been fun. It's time for new faces to come. It's our time to go.»
Scola was referring both to himself and to the two Gasol brothers, who also announced their international retirement earlier in the day after Spain lost to the USA in their quarter-final match-up.
Pau Gasol, 41, enjoyed a sparkling career with the Spanish national team, winning 11 medals in three different international competitions, including gold in the 2006 FIBA World Cup and three Olympic medals (silver in 2008 and 2012, bronze in 2016).
Marc Gasol, 36, ended his national career with nine medals, including two FIBA World Cup championships as well as Olympic silver in 2008 and 2012.
Hello Paris 2024
Team USA will return in Paris 2024 in both the men's and women's competitions as reigning champions, and could bring any number of exciting players with them to France in defence of their Olympic titles.
On the men's side, Durant could take a shot at a fourth gold medal, which would make him the most successful men's player in Olympic history. The U.S. also has a number of exciting young players currently plying their trade in the NBA, including the Memphis Grizzlies' Ja Morant and New Orleans Pelicans' Zion Williamson.
Outside of the USA, all eyes will be on Slovenia (if they qualify, of course), and more specifically Luka Doncic, to see if they can go one better than Tokyo and claim a first Olympic basketball medal for the nation.
On the women's side, there is still a chance Taurasi could return to seek a sixth gold medal – though Bird has confirmed that Tokyo 2020 was her last Olympic Games. But it's not as if the USA will be short of talent to choose from, with both A'Ja Wilson starring in her Olympic debut in Tokyo and Breanna Stewart showing why she's one of the top players in the game after claiming her second gold medal (to go along with her two WNBA and World Championship titles).
When and where to watch basketball replays online at Olympics.com
We've got you covered. Replays are live right here.
When do the top basketball players compete next?
The biggest women's league is back already – The WNBA returned to action on Thursday, 12 August, following a break to accommodate the Tokyo Olympic Games.
For the men, the new NBA season is scheduled to tip-off on 19 October, while week one of the EuroLeague starts on 30 September.
Full medals list in basketball at Tokyo 2020 in 2021
Women's competition
Gold: USA
Silver: Japan
Bronze: France
Men's events
Gold: USA
Silver: France
Bronze: Australia
Fuente imagen: olympics.com
https://interdeportes.es/wp-content/uploads/2021/08/d5aftbh485nhuxxtahk7.jpeg
610
1080
Redacción Interdeportes
https://www.interdeportes.es/wp-content/uploads/2021/01/logo-nuevo-fondo-claro400x111-300x83.png
Redacción Interdeportes
2021-08-19 17:23:46
2021-08-19 17:23:49
JJOO Tokio: What we learned: Basketball highlights from the Tokyo 2020 Olympic Games Video not available Video not available Video not available Video not available – Interdeportes