What we learned: Archery wrap-up from the Tokyo 2020 Olympics
From AN San's dominance to Mete Gazoz's men's title, we reflect on archery's most memorable moments at Tokyo 2020, recap the medals, and look forward to Paris 2024.
Led by the brilliant AN San, the Republic of Korea almost repeated their Rio 2016 golden sweep at the Olympic Games Tokyo 2020.
Having clinched all four golds on offer in Rio, South Korea's archers won the first Olympic mixed team competition on their way to four golds in Tokyo.
But all three men failed to make the semi-finals of the individual competition with Mete Gazoz taking gold for Turkey's first Olympic archery medal.
Youth most definitely held sway at these Games, although London 2012 individual gold medallist OH Jinhyek won team gold at the age of 39.
Read on for some of the most memorable moments, a recap of the medal winners, and who to look out for at Paris 2024.
Top 5 archery moments at Tokyo 2020
Here are some of the highlights from the Tokyo 2020 Olympic Games, which took place in 2021.
1: Korea claim first mixed team gold
The first archery gold to be decided at Tokyo 2020 was in the new mixed team event.
With one man and one woman in each team, firing two arrows apiece in each set, this was perhaps the competition which might see the mighty Koreans dethroned after their clean sweep of golds in Rio 2016.
That threat never materialised.
With a combined age of 37, AN San and KIM Je Deok, cruised through to the final with comfortable wins over Bangladesh, India and Mexico.
The Netherlands would prove considerably tougher in the final as Gabriela Schloesser and Steve Wijler took the opening set 38-35 to lead 2-0.
Back came the favourites with An's closing 10 in set two levelling it up, and Wijler's six with his final arrow in set three handed Korea a 4-2 lead.
Both teams produced their best in the fourth set with the Dutch hitting three 10s in their score of 39.
Kim and An hit 10s with their first arrows, and Kim found the middle again to leave the Koreans needing nine to halve the set and take the Olympic title.
As is her style, An wasted little time lining up and scoring nine to secure a 5-3 victory and Olympic gold.
In the bronze medal match, Luis Alvarez bounced back from a two in the second set to help Mexico to victory over Turkey.
Alvarez and Alejandra Valencia posted 39 in the third set as they got the better of Mete Gazoz and Yasemin Anagoz 6-2 for their nation's first archery medal since Aida Roman and Mariana Avitia took individual silver and bronze at London 2012.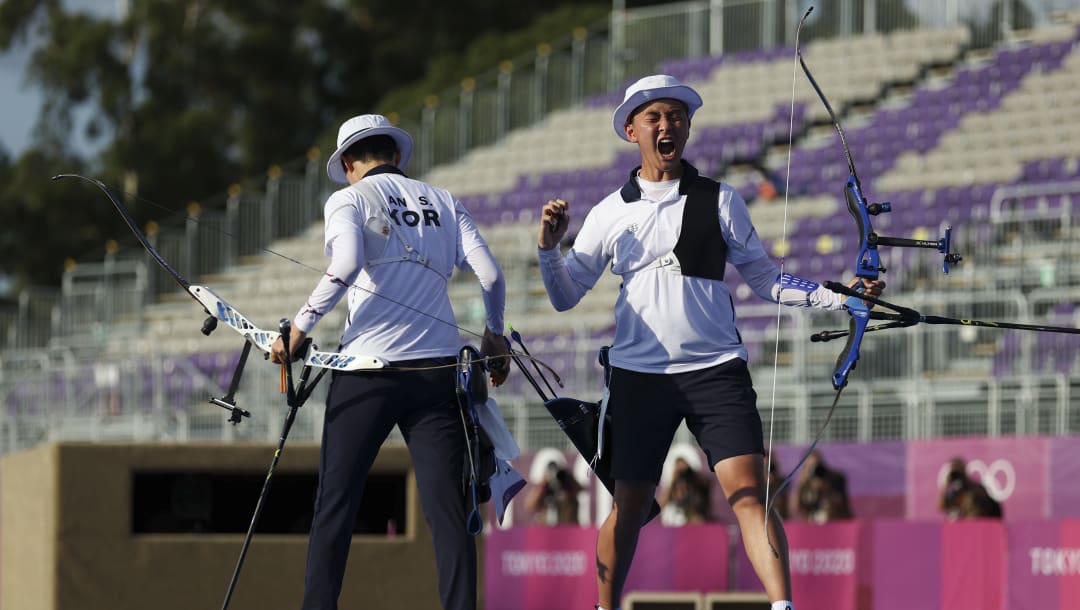 2: The unbeaten run continues for Korea's women
Since team events were introduced to the archery programme at the Seoul 1988 Olympic Games, South Korea's women have never been beaten.
The closest anyone has come was in the London 2012 final when China lost out by a single point.
After finishing well clear of the field in the ranking round, An, JANG Minhee and KANG Chaeyoung made light work of Italy in the quarter-finals.
They halved the third set against Belarus in the semi-finals, when Jang only hit a seven with what proved to be the final arrow of contest, but they were back to their ruthless best in the final.
Shooting first against ROC, the Koreans scored 55 with the underdogs falling one point short.
The next two sets were less competitive with Korea taking them 56-53 and 54-51 to make it nine golds out of nine in the women's team event, the longest current winning streak for a team at the Olympic Games.
What makes this particular success all the more impressive is that all three were making their debut Games appearances.
Belarus were denied a first Olympic medal in archery as Germany beat them 5-1.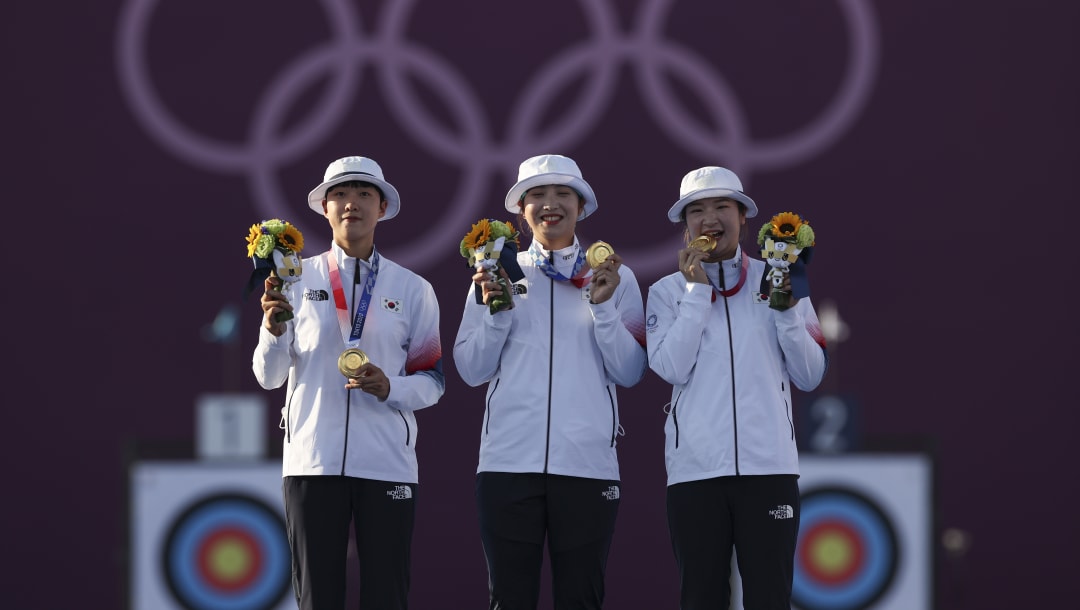 3: Ice-cool An San completes unique treble
Having won two golds at her first Games, An San made it three in the women's individual event.
This was far from an easy feat with the 20-year-old, the only Korean who made it to the last four, having to win single arrow shoot-offs in both the semi-finals and final.
After coming through a tight last-16 clash with Japan's HAYAKAMA Ren 6-4, An eased past India's world number one Deepika Kumari 6-0.
Then came a humdinger of a semi-final against Mackenzie Brown.
After dropping the opener, An had two perfect sets to go 4-2 in front.
Back came the American with a perfect 30 of her own to level it up in what became a duel akin to one between two expert gunslingers.
As the tension mounted, An's heart rate barely crept over 100 beats per minute with Brown's hovering around 120,
In the fifth set, Brown needed a 10 with her final shot to win it, but her arrow was just in the '9' zone meaning a shoot-off.
An went first and landed one on the inner ring, with Brown only managing a nine.
As in the team final, the individual final saw Korea face ROC with Elena Osipova, who beat Kang Chaeyoung in the quarter-finals, standing between An and history.
It was another thriller with the pair sharing the first set before An hit 30 to go into a 3-1 lead.
Osipova was only getting started, winning the third 28-27, and the fourth 29-27 to move to within sight of gold.
Even when staring at defeat, An's heart rate remained at around 110 beats per minute with Osipova at 165.
And the Korean youngster was coolness personified, closing the fifth set with two 10s to force a shoot-off.
Despite the magnitude of the situation, both women were able to laugh and joke with their coaches before the most important single arrows of their lives.
An hit 10 just as she did in the semi-finals, but this time it was on the outer ring giving her 28-year-old opponent an opening.
Osipova could only hit an eight before turning to her coach and smiling broadly, with An giving South Korea its eighth individual women's gold at the last nine Olympic Games.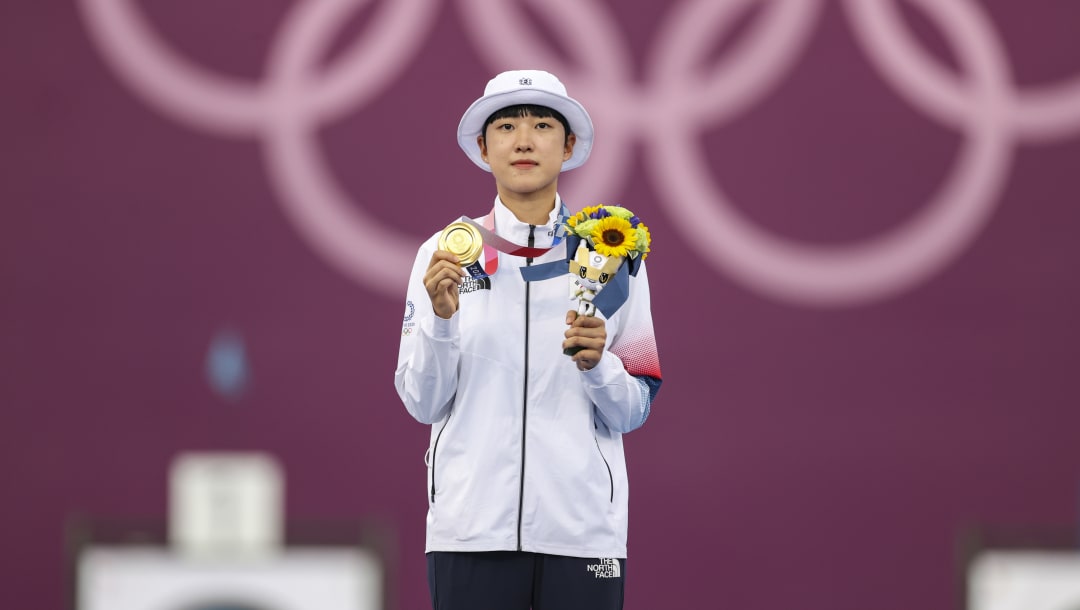 An became a national hero almost overnight, although her success was not greeted with universal acclaim.
Her short hairstyle attracted online criticism in her homeland with some accusing her of being a «feminist» who hates men.
That provoked a response with women around the world cutting their hair in solidarity and posting the results under the Twitter hashtag #women_shortcut_campaign (Korean version: #여성[숏컷]
For her part, An reportedly replied to a question on Instagram that she wears her hair this way because she finds it «comfortable».
As well as winning three gold medals, An has now – perhaps unwittingly – started a movement which can only bolster the fight for gender equality in Korea.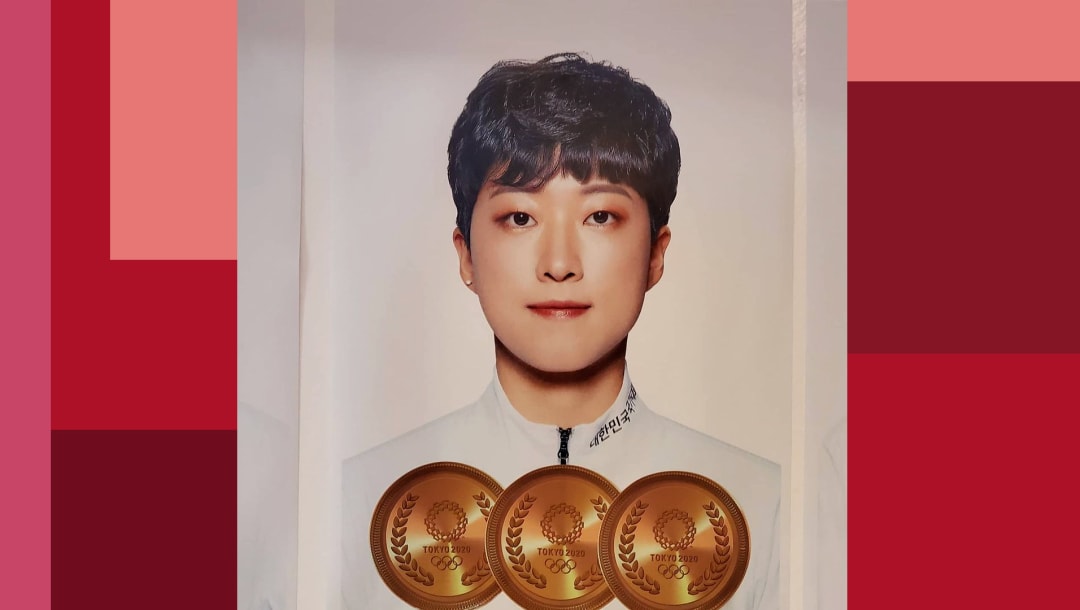 4: Korean men edge past hosts on way to team gold
Korea had won four of the past five Olympic men's team competitions, but the hosts almost derailed their gold bid in the semi-finals.
Japan trailed 4-2 going into the fourth set, but a score of 56 saw them force a shoot-off with each man having one arrow each.
Korea went first with Rio team gold medallist KIM Woojin hitting nine, but Japan's KAWATA Yuki found the outer edge of the 10 for an early lead.
Then 17-year-old mixed team gold medallist Kim Je Deok hit a 10 and closer to the middle of the target, with FURUKAWA Takaharu just straying into the 9.
The tension was palpable with the teams all square with one arrow to go.
Korea's 39-year-old London 2012 individual champion Oh Jinhyek was just outside the 10 zone, but his young colleague Kim's arrow closest to the middle meant Japan had to score a 10 or go out.
It all came down to MUTO Hiroki's final arrow. And he was just outside the 10 to give Korea victory by the narrowest of margins.
Japan went into another shoot-off for bronze and, this time, Muto found the inner ring with the final arrow of the contest to secure their first men's team medal against the Netherlands.
After that scare in the semis, Korea were imperious in the final against Chinese Taipei.
They even managed the first perfect set of the tournament to go into a 4-0 lead, before closing it out 56-55 for a convincing 6-0 triumph.
Oh and Kim Woojin claimed their second Olympic gold medals, as did young Kim Je Deok.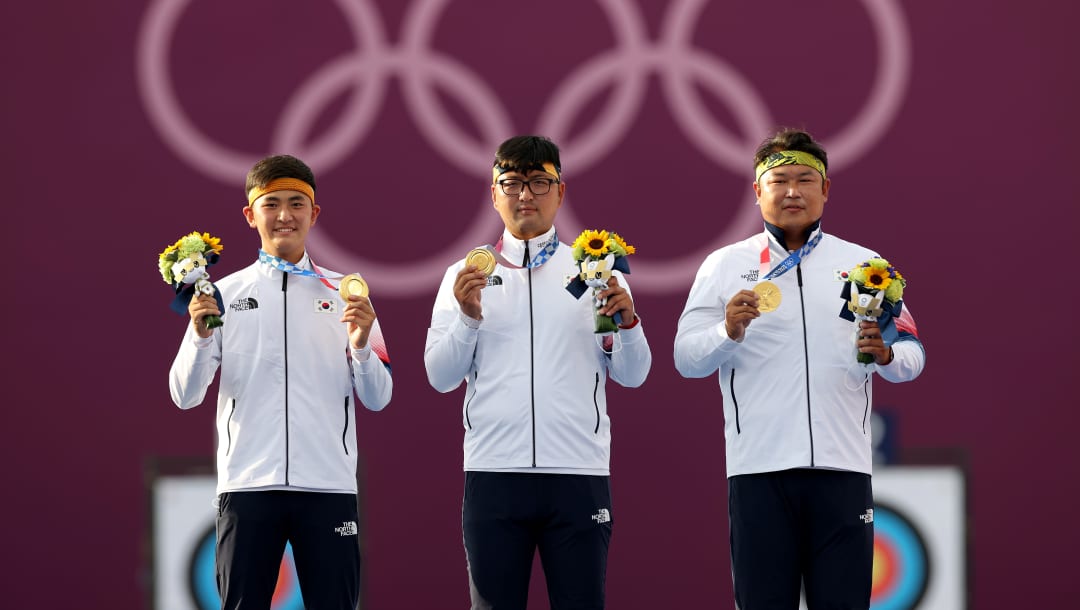 5: The smiling assassin, Mete Gazoz, fulfills his destiny
After finishing top in the men's individual ranking round. Kim Je Deok's hopes of matching An San's treble were dashed when he went out to Germany's Florian Unruh 7-3 in the round of 32.
On Jinhyek also went out at that stage, to India's Atanu Das, with only Kim Woojin making it through to the quarter-finals for South Korea.
The 29-year-old double world champion was up against Chinese Taipei's TANG Chih-Chun after the pair met each other in the team final.
This time, Korea lost out with Tang hitting two 10s at the start of the fifth end to leave himself needing eight or better to progress. He hit an eight to ensure there would be no repeat of Korea's Rio sweep.
Tang's mighty effort would prove to be in vain as he went down first to Italy's Mauro Nespoli in the semi-finals, and then to Furukawa Takaharu in the bronze medal playoff.
The final would be between Vespoli and Mete Gazoz.
The young Turk had already shown his prowess in pressure situations, ending the hopes of world number one Brady Ellison with a perfect 30 in the fifth set of a nervy quarter-final.
In his semi-final against Furukawa, Gazoz again led 5-3 and once more he shut the door on his opponent with a perfect fifth set to win 7-3.
He also showed great composure in the final after he and Nespoli shared the first four sets.
In the crucial fifth, Gazoz went first and hit a nine. Then came an eight from Nespoli, and the Turk made sure he could not get back into it with two 10s to take the title.
The Harry Potter lookalike with the now-familiar 'hide-reveal-clenched fist' celebration is Olympic champion.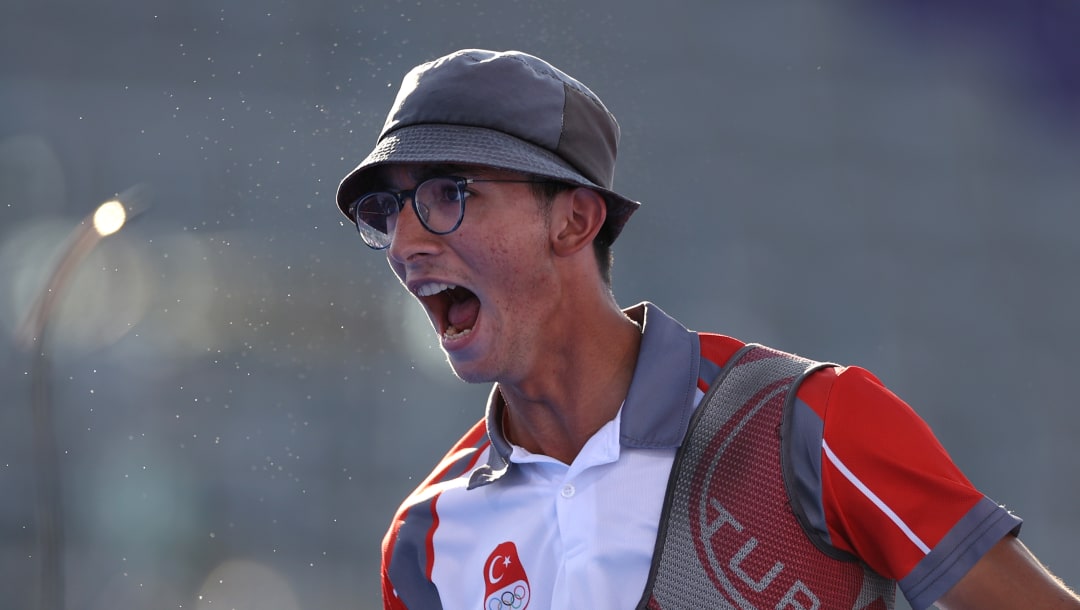 Gazoz's father Metin was a Turkish national champion archer and the youngster has long been thought of as a potential worldbeater.
After an early exit on his Olympic debut at Rio 2016, the then-17-year-old stated to the gathered media that he would be on the podium at Tokyo 2020.
He was even more bullish on social media, posting a tweet which translates as, «I will work harder and return with a gold medal from Tokyo in 2020.»
Gazoz has trained meticulously since childhood to be a champion archer.
After finishing fourth at the Nanjing 2014 Youth Olympic Games, he represented Turkey at the 2015 European Games and Rio 2016.
His breakthrough year was 2018, taking Mediterranean Games gold before winning the Berlin World Cup and Sofia European Grand Prix events.
However, he had not secured a place at the Olympic Games until June when he won the European qualification tournament on home soil in Antalya.
While others grimace and walk nervously during matches, Gazoz simply smiles when the tension is at its highest.
He told Reuters, «Imagine you're in the Olympic final, drawing your bow and some dude behind you is grinning from ear to ear. I owe 80% of this medal to the smile.
«All athletes employ different tactics. Some like to shout, some like to wait until the end of the allowed time and keep their rival on the edge. Mine is being happy, showing how comfortable I am.»
The 22-year-old, who has a stammer, admits to being a nervous person most of the time but «not when I have the bowstring in my hand».
«Until it's done» was his motto on social media since Rio. And now it is.
One last look
Oh Jinhyek brought his superb career to a close with a second Olympic gold at Tokyo 2020.
He won double team gold at the 1998 World Youth Archery Championships, before Tokyo individual champions medallists An San and Mete Gazoz were even born.
His highlight came at the London 2012 Olympic Games where he beat Furukawa Takaharu to take individual gold.
A three-time men's team world champion and mixed team gold medallist in 2013, Oh was twice individual runner-up at the Worlds.
He won individual titles at the 2013 Archery World Cup and the 2014 Asian Games on home soil in Incheon.
Now 40, he has bowed out in what is becoming increasingly a young person's sport.
Oh's tournament was ended by Atanu Das who then went out to Furukawa in the last 16 before the Japanese veteran claimed bronze to add to his men's team bronze in Tokyo.
Furukawa will be 39 when Paris comes around but has said he will try to compete in a sixth Olympic Games.
One man who won't be there is Sjef van den Berg who has stepped away from the sport aged 26.
Van den Berg was fourth at Rio 2016, going down to Brady Ellison in the bronze medal match, after taking silver at the 2015 European Games.
The Dutch archer also enjoyed success in mixed team competitions, winning silver at the 2019 World Championships on home soil, and gold at May's World Cup event in Lausanne.
He told World Archery in July, «I see myself as a guy who just enjoys shooting. I want to go back to just shooting because I love it, not because people want me to shoot well.»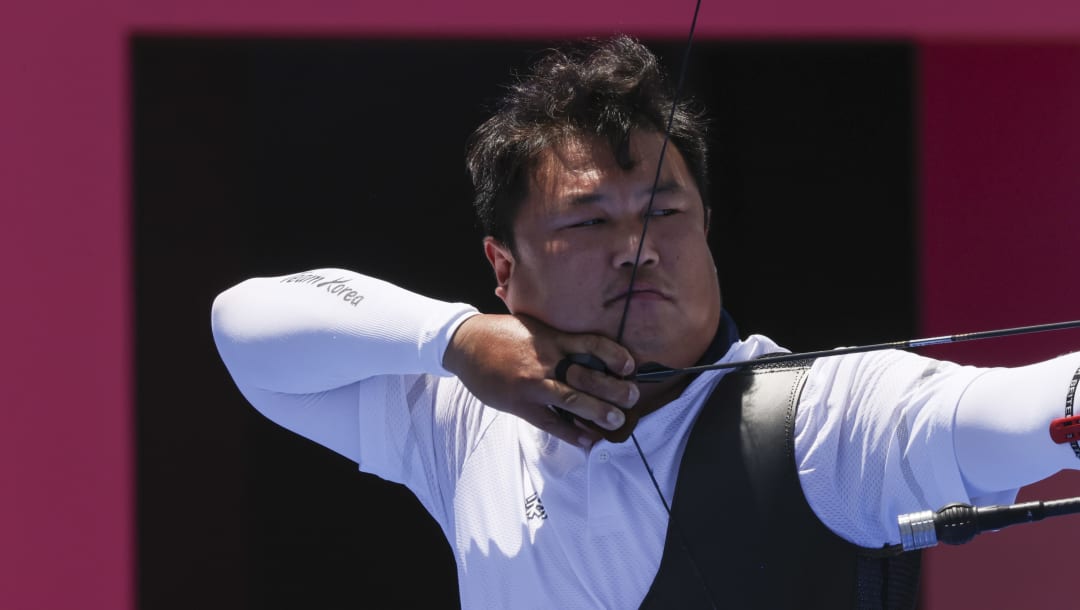 Hello Paris 2024
At 20 and 22 respectively, there is every chance An San and Mete Gazoz will be in Paris to defend their titles.
That said, such is the competition for places in the Korean team that An will have to prove herself again in the run-up to the next Olympic Games.
No woman has won more than one individual archery Olympic gold but, judging by the way she performed in Tokyo, An certainly has a great chance to make more history.
Her mixed team partner Kim Je Deok will only be 20 in three years' time, and he must be seen as a medal hope in Paris.
Marlyse Hourtou from Chad made her Olympic debut courtesy of a tripartite invitation, and caused a minor sensation when she scored 28 to take the opening set in her first-round match against eventual gold medallist An San.
The 25-year-old went down 6-2 but shot far better than she did in qualification, and three years more training could see her make an impact in Paris.
For the hosts, Lisa Barbelin is the reigning European champion and went down to Mexico's mixed team bronze medallist Alejandra Valencia in the last 16.
She will be 24 and hoping to be contending for a medal on home soil.
And Barbelin could have young company in Paris with Iban Bariteaud and Caroline Lopez recently crowned under-18 world champions.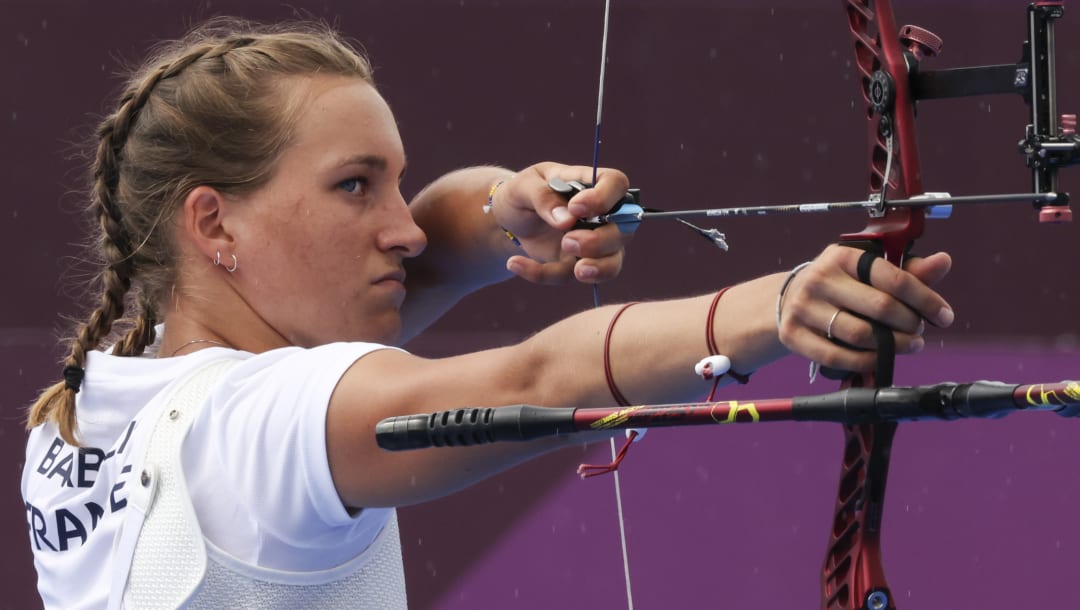 When and where to watch archery replays on Olympics.com
The answer is: olympics.com/tokyo2020-replays
When do the top archers compete next?
The World Archery Championships take place in Yankton, South Dakota in the United States from 19-26 September.
All the big names are expected to be there with Brady Ellison and Chinese Taipei's LEI Chien-Ying defending their individual titles.
Chinese Taipei stunned Korea in the women's team final at 's-Hertogenbosch two years ago, but the Olympic champions will be out for revenge.
The men are also seeking an upgrade having taken bronze in 2019 with China taking gold.
The athletes will remain in Yankton for the World Cup Final which will be held from 29-30 September and concludes the 2021 season.
Full medals list in archery at Tokyo 2020
Mixed Team
Gold – Republic of Korea
Silver – Netherlands
Bronze – Mexico
Women's Team
Gold – Republic of Korea
Silver – ROC
Bronze – Germany
Men's Team
Gold – Republic of Korea
Silver – Chinese Taipei
Bronze – Japan
Women's Individual
Gold – AN San (KOR)
Silver – Elena Osipova (ROC)
Bronze – Lucilla Boari (ITA)
Men's Individual
Gold – Mete Gazoz (TUR)
Silver – Mauro Nespoli (ITA)
Bronze – FURUKAWA Takaharu (JPN)
Fuente imagen: olympics.com
https://interdeportes.es/wp-content/uploads/2021/08/z6plhipsa6cr3jpt16r4.jpeg
610
1080
Redacción Interdeportes
https://www.interdeportes.es/wp-content/uploads/2021/01/logo-nuevo-fondo-claro400x111-300x83.png
Redacción Interdeportes
2021-08-22 17:48:24
2021-08-22 17:48:27
JJOO Tokio: What we learned: Archery wrap-up from the Tokyo 2020 Olympics – Interdeportes